Real infant & patient visibility, security & compliance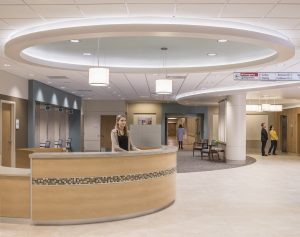 In October of 2015, Riverside Health System in Newport News, Virginia set out to find a replacement for its existing infant protection system.
"Safety and security of our patients is always our primary concern," Riverside's Director of Safety and Protection Darryl Ware said. "Our original system was out-of-date and parts were becoming very difficult to obtain. When parts were located, the price point was very significant."
Riverside had encountered repeated failures with their existing system, ranging from false calls and missing TAGS, to complete system failures resulting in potential elopements.
Seeking a solution
In conjunction with design and consultancy firm RTKL, Riverside set out to identify the best infant security solutions the market had to offer. Together they evaluated offerings from three different vendors, Ware said. Riverside ultimately selected the Guard RFID TotGuard system presented by systems integrator Ameritone, because it provided the most robust solution with full network integration, skin sensing technology, and the most user-friendly interface. Ameritone was able to demonstrate how the TotGuard systems technology would be least likely to produce false alarms. Furthermore, Ameritone could completely integrate the TotGuard system with the hospital's new Genetec security platform to provide complete control of elevators, door access, security cameras and other key security components throughout the hospital.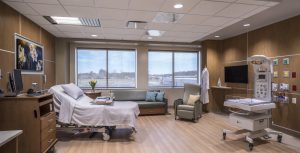 In April 2016, Ameritone installed the new TotGuard system in Riverside's 450-bed hospital located in Newport News, Va. Riverside delivers more than 2,500 babies a year, and the staff rely heavily on the new TotGuard system to keep each and every one of them safe. The staff has enjoyed the ease with which they can enroll the infant tags wirelessly, as well as the significant drop in false alarms. Security has also benefited from trusting that the system is monitoring each infant's every move, while also informing the staff of "wanders" or unauthorized attempts to gain access to restricted areas.
When Riverside opened a 52-bed hospital in Onancock, Va. in February 2017, the new facility was also equipped with the full technology package from Ameritone, including the TotGuard system. Set in the rural heart of Virginia's eastern shore, patient safety is of the utmost importance. For the hospital's staff, being able to restrict visitor access, while allowing mothers and their newborns to move around the maternity ward with complete comfort and confidence, was essential.
For Riverside Health System, the overall benefits of the TotGuard system are clear.
"A strong infant security system is vital to the functioning and continued operation of any unit caring for infant and pediatric patients," Ware said. "I see this system as having an immediate return on investment to our organization, and to the safety and security of our patients and families. One deterred, prevented or identified abduction attempt erases any financial cost imaginable."