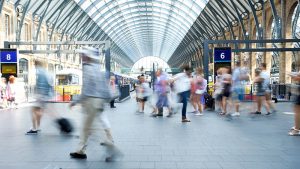 In high-traffic environments such as airports and train station terminals, it can be difficult to spot threats and make snap decisions.
When you need to focus on the flow of passengers and cargo, having comprehensive security tools in place can help you prevent emergencies before they happen.
Ameritone can combine all of your essential tools and services into a single, complete system, so that you're always prepared to handle unexpected situations.
Protect Your Premises
Managing movement is part of your job, and access control features such as automatic doors, electronic locks, and swipe cards let you grant varying degrees of access to the areas you need to protect.
Our scalable video surveillance systems enable you watch what's going on in any and all of your large terminals, at any time.
And with staff and asset tracking tools, you can quickly locate your personnel and equipment, wherever they are in your facility.
Notify Instantly
Fire alarms, duress buttons and mass notification systems ensure you can quickly alert all staff, passengers and emergency responders if a dangerous event occurs.
Communicate Conveniently
We can customize your communication system to deliver important alerts and notifications in the format that works best for you, whether that's text messaging and paging or wireless phones.
With all of your security features integrated for your convenience, you can focus on logistics and trust that your system has your back.